GWP of different foods
1

The GWP are very different for different foods. How would you imagine the ranking of different foods?

Match the food product you think have highest GWP (CO2 per kg) with 1,and match the food product you think have second highest GWP with 2 etc.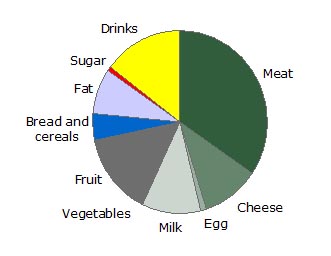 Meat is far the largest contributor to carbon food print of a typical Danish diet. This is not only due to the amount of meat consumed, but also the fact that the contribution to global warming from meat production is higher compared to other food products in terms of kg CO2-eq./kg food. This is illustrated in Figure 4.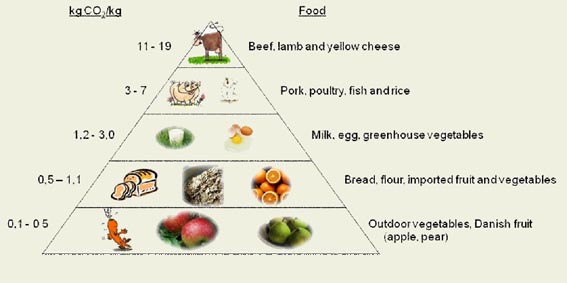 Pork does per kg meat not have the same high CO2-costs as e.g. beef and lamb; however pork is still in the top of the climate pyramid involving considerable higher CO2-costs (approx. 3.6 kg CO2/kg meat) than e.g. bread and vegetables.
The environmental impact of different meats is highly influenced by the total amount of feed used in all the life-cycles of the animal. The following numbers give the level of feed dry matter used per kg live weight of different animal species
Table 2. Feed use per kg live weight for different animal species
| | | | | | |
| --- | --- | --- | --- | --- | --- |
| Species | Fish1) | Chicken1) | Pork2) | Beef, intensive3) | Beef, suckler3) |
| Feed use per kg live weight | ~ 1.0 | ~ 2.0 | ~ 3.0 | ~ 6.0 | ~ 12.0 |
2)Nguyen, T.L.T. er al. (2011)
3)Nguyen, T.L.T. er al. (2010a)